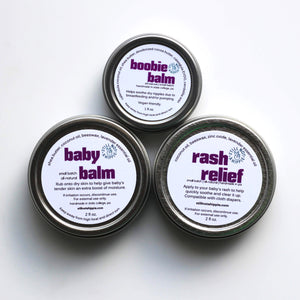 The "baby & mama bundle #2" is perfect for after the little one has arrived.

Includes 2oz. tins of the following three products from the "baby & mama" line, except "boobie balm", which is only in 1oz.

Ingredients:
baby balm: coconut oil, shea butter, beeswax, vitamin e oil, lavender essential oil
rash relief: coconut oil, beeswax, zinc oxide, vitamin e oil, lavender essential oil
boobie balm: calendula-infused coconut oil, shea butter, deodorized cocoa butter, calendula-infused extra virgin olive oil, candelilla wax

Made with less than .5% dilution of lavender essential oil making it safe for baby's delicate skin.

"baby balm" and "rash relief" are also compatible with cloth diapers.

These products are handmade in small batches and because they contain natural ingredients, there may be slight variations in appearance from batch to batch, especially because of the beeswax and the farm it may come from.

Please keep these items away from high heat and direct sunlight. If they get too warm, they may soften. Simply place them in a cool place and they'll return to their proper consistency.
Since all of the products are all-natural and no stabilizers are used, with the ratio of butter and oils used in the recipes and temperature fluctuations, moisturizing beads may form. That's totally fine and normal. They'll become smooth as they're applied and warm up to your body temperature. They're still just as awesome.
**SHIPPING INSURANCE + DELIVERY CONFIRMATION Please note that I am not responsible for any lost or damaged products once they are released to USPS.
For orders of $50 or more, it is highly recommended that you purchase shipping insurance and signature confirmation with your order for a flat rate of $3.50. 
Orders of $50+ that receive Free Standard Domestic Shipping will not ship with this option.**


DISCLAIMER: Even though they've been used for centuries, natural and herbal products are not regulated by the FDA and are not intended to treat, cure, or prevent any disease or condition. With all cosmetic items, if sensitivity occurs, you should discontinue use. Do not use on large open wounds. For external use only. Please consult a licensed physician before beginning or changing the course of of any medical treatment.