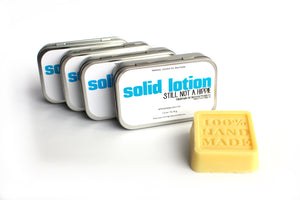 Solid lotion is pretty much where "Still Not A Hippie" began.

Solid lotion is fabulous! And if you are a frequent flyer, you'll love it even more because it isn't considered to be a liquid, so doesn't take up valuable space in your 3-1-1 bag.
INGREDIENTS:
Central PA beeswax
coconut oil 
shea butter

Made with simple and natural ingredients that were chosen for their moisturizing benefits while the beeswax helps to seal it in. There is no fragrance added, but the bars do have the light scent of the ingredients used. I'd say that it's a light and slightly sweet honey/beeswax scent.
(it is possible to order bars scented with essential oils if I have the oil(s). There is an upcharge and minimum order quantity. Just ask.)

Comes in a handy tin that's great for travel.

Each bar is poured at 2fl oz volume, so their solid weight is 1.6oz/each.

You will receive a total of 4 large solid lotion bars in their tins. Order the 4pk and save!

How do you use it?
You can just slowly rub it onto dry skin and your bodyheat will warm it up so that it can melt into your skin. You could also rub it between your hands to melt some of the lotion into them and then simply use your hands to apply to the rest of your body.

Is it getting cold where you live? Keep a lotion bar nearby so that you can keep your hands moisturized and soft while it's cold and dry out!

Do you live somewhere warm? Are your heels dry from wearing sandals and flip-flops? Rub the lotion bar onto them!

The products are handmade in small batches and because they contain natural ingredients, there may be slight variations in appearance from batch to batch, especially because of the beeswax and the farm it may come from.

Please keep these items away from high heat and direct sunlight. If they get too warm, they may soften up. Simply put in a cooler place and they'll go back to their original consistency.
**SHIPPING INSURANCE + DELIVERY CONFIRMATION Please note that I am not responsible for any lost or damaged products once they are released to USPS.
For orders of $50 or more, it is highly recommended that you purchase shipping insurance and signature confirmation with your order for a flat rate of $3.50. 
Orders of $50+ that receive Free Standard Domestic Shipping will not ship with this option.**