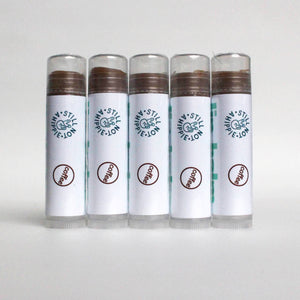 Are you a coffee lover?
Then this all-natural lip balm is for you!

I've infused coconut oil with coffee and combined it with shea butter and beeswax to make this delish lip balm!

Keep your lips happy and moisturized, while enjoying the coffee flavor & scent of the lip balm.

Save $$$ when you order this 5-pack because you're getting 1 for FREEEE!
But, if you REALLY want less than 5, click here. 

Each tube is approx .15oz/4.4g.

Tamper-evident tab.
☕️INGREDIENTS
coffee-infused coconut oil, shea butter, beeswax

From batch to batch, there may be slight variances in shade intensity.
Did you know that a coffee solid lotion mini is now available until August 15th?

☕️PROCESSING TIME
Orders will typically ship out within 3-5 business days.

☕️DELIVERY
Orders are shipped via USPS First Class, though depending on your shipping total, it may ship via USPS Priority Flat Rate.
Keep away from high heat and direct sun.
If it does get too soft from heat, put it in a cooler area and it'll firm back up again. If shea moisture beads form, that's totally fine. The lip balm will still keep your lips happy.
**SHIPPING INSURANCE + DELIVERY CONFIRMATION Please note that I am not responsible for any lost or damaged products once they are released to USPS.
For orders of $50 or more, it is highly recommended that you purchase shipping insurance and signature confirmation with your order for a flat rate of $3.50. 
Orders of $50+ that receive Free Standard Domestic Shipping will not ship with this option.**